Strong foundations for high expectations.
Our History
Our beginning dates back to 1953 when Simon Wiens, or "Si" as he was commonly known by people, when he and his partner started Jost and Wiens Construction. It was his desire to build quality buildings with attention to detail and to have great client relationships. He also desired to have his son Sid Wiens carry on the tradition that he had started. So as soon as Sid was able, he was working in the trade of his father, learning it from the ground up.
In 1987, Si helped form a new entity of Wiens and Dudley Construction.  Sid was 24 at the time.  While he had been around the business for many years, there was still much that he needed to learn.  Si Wiens passed away 3 months later leaving this new company in young hands.  There were growing pains but a determination to move forward and grow the company that his father had left to him.
In 1988, Sid won his first job, First Missionary Church in Dodge City KS. This was the stepping stone that led to many more jobs in Cimarron, St John, Hoxie, Sterling, Cunningham, Hutchinson and surrounding areas.
Our Uniqueness
In 1997, Sid Wiens purchased his partners shares in the business renaming it Wiens & Company. Sid has never lost his focus of excellence in all he does.
Through the years, we know one thing that is unique to Wiens & Company setting us apart from other General Contractors and Construction Management Firms, it is our ability to self-perform work.  Because of this, we are able to offer our clients.
Better coordination with sub-contractors
Better quality control
Smooth running projects
Options to control costs
Personal involvement in projects.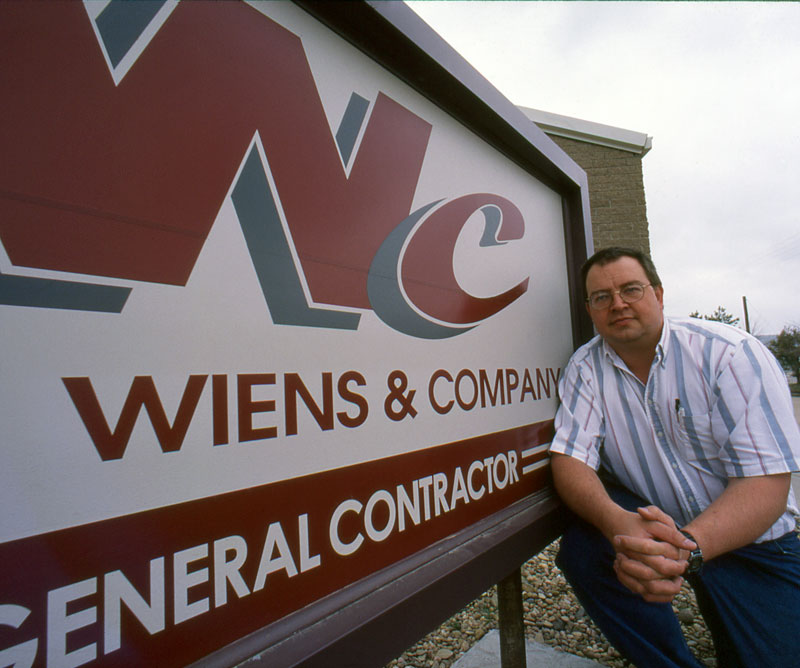 When choosing Wiens & Company for your building project, you are choosing a team that cares about your construction project from beginning to end. We recognize that having a strong foundation of management, leadership, organization, planning and excellence is necessary for the success of every building project.
Our past 30 years have given us a wide variety of experience in the construction market.  We have worked in cities and towns across central, west central, and south central Kansas building many educational, financial, industrial, medical, retirement, and religious facilities.
Project Management provides smooth flow of information between the jobsite, the Architect and Owner.  One person handles this task for stability and continuity.
Leadership is prerequisite to a quality project.  A qualified Project Superintendent is committed to your project through completion.
Efficiency & Organization produces a smooth project and schedule.  Correct information in a timely manner eliminates hindrances on the jobsite.
Effective Planning & Scheduling endows the project team with the assurance to proceed with confidence, resulting in stability, predictability and quality.
Good Relationships build the trust necessary for clear communication, coordination, problem-solving and ease of working together.
Our Future
Bryant, like his father, Sid, has worked for years in the construction field. He attended Pitt State University in Pittsburg, Kansas where he received a Bachelor's degree in Construction Management. Bryant joined Wiens & Company in May, 2016 as a Project Superintendent.
Today, Wiens & Company is a third generation enterprise growing with the addition of Bryant Wiens to continue our focus of excellence in institutional construction.